I'm the creator of this site (Grammar Gang). I'm also the founder of Codeless, a long-form content creation company that's been featured in The New York Times, Business Insider, The Next Web, and hundreds more.

We produce around ~100 long, in-depth articles each month. So we're relying on these tools on a daily basis. Here, I break down the good, bad, and uuuuuuggggllllyyyy.
Latest posts by Brad Smith (see all)
Grammarly vs. Ginger.
Like tea vs. coffee. Friends vs. Seinfeld.
The two top of the grammar checking world. Inseparable at birth like a pair of fraternal twins.
But for all their similarities, they do have a few key differences.
One is better than the other in a few key categories.
So which one wins? I'll help you compare them both based on five key features:
Accuracy & Database
Limitations & Device Usage
Customer Service Response
Languages
Costs
(Just keep in mind: Ginger has no plagiarism checker. So if you think you'll need that too, just go with Grammarly now.)
Otherwise, let's finally compare Grammarly vs. Ginger once and for all to see which one will be the last standing
| FEATURES | GRAMMARLY | GINGER |
| --- | --- | --- |
| ACCURACY | 86% out of 86% | N/A |
| DATABASE | 16 Billion + | N/A |
| LIMITATIONS | 150,000 words | Unlimited |
| DEVICE USAGE | 5 | Unlimited |
| DEVICE COMPATIBILITY | Desktop, Browser, Mobile | Desktop, Browser, Mobile |
| CUSTOMER SERVICE | One Hour | 24+ Hours |
| LANGUAGES | Only English | 40+ Languages |
| PRICING | $11.66/ month (Annual) | $7.49/ month (Annual) |
| OVERALL | ★★★★★ | ★★★★ |
| WEBSITE | www.Grammarly.com | www.GingerSoftware.com |
Feature #1. Accuracy & Database
Grammarly boasts over 16 billion sources in their database. You know what that means?
It's really freaking accurate, that's what. You'll get a complete breakdown of what looks good (and what doesn't).
Grammarly also has tons of users. So they'll provide some context by ranking your document to all the others that have been added to the service. (That's what the "87%" means in the image above.)
In addition, Grammarly will completely spell out exactly what's wrong and when, complete with helpful descriptions so you can learn to not make the same mistake again.
It even catches my favorite:
Sentence fragments.
Ginger, on the other hand, has a 'sentence rephraser' that will help you automatically reword hard-to-read passages.
Plus, their multilingual support is excellent. They have an English Personal Trainer' feature that is like your own personal language coach if you're getting up to speed on the insanity that is the English language.
However, I'm docking a few points for (1) no transparent database number, so you're not exactly sure how far-reaching it is. Plus, (2) the reporting options are lackluster. You don't get the same level of detail and context like you do from Grammarly.
Winner: Grammarly
A bigger (verified) database and better reporting gives Grammarly the edge.
Feature #2. Limitations & Device Usage
Both Grammarly and Ginger have some limitations.
Ginger limits free users to only 14 corrections each month. That's tiny. But on the flipside, they provide unlimited access to paying members.
In contrast, Grammarly provides WAY more access on its free plan. (Instead, restricting advanced features like the plagiarism checker.) Except, they do have some limitations on paid plans (in the hundreds of thousands of words a month).
Grammarly and Ginger are almost neck-and-neck in device compatibility.
The web-based options are both for excellent.
And they both feature good browser extensions, too.
These can help you track every word you type, including anything sent through Gmail:
Plus, Grammarly and Ginger both work well on the entire Microsoft Office suite. The Word extension brings in a lot of the same functionality from their fully-featured web version.
And they both support Android and iOS devices, too. These two lead the pack on device accessibility.
Winner: Grammarly
A slight edge goes to Grammarly in this case for the bigger free restriction option.
If you don't need advanced features like plagiarism support, you might never need to actually pay a dime for Grammarly.
Even though Ginger technically allows you more access on the paid plans, Grammarly's restrictions are still so big that I've never hit them (even after checking hundreds of docs a month).
Device compatibility is a push in this case, as both excel in this area.
Feature #3. Customer Service Response
What if you have a problem?
What if there's a snag or hangup in the 11th hour (literally), while you're trying to turn something in before a deadline?
You need a responsive customer support department backing you up.
I tested both customer service teams for this very reason.
Neither provides live chat, so I instead submitted a ticket request.
Grammarly responded to my support ticket in one hour.
A few other tools I've tested (like Citation Machine or CopyLeaks) had good response times in the half-a-day range. But no one came close to this.
Unfortunately, the same response times were NOT seen from Ginger.
I repeated the same exact process, firing off a support request.
And then… nothing.
It took over a day to actually hear anything.
Fine if you're waiting on a simple billing question. Not fine if you're stuck and in jeopardy of missing a deadline.
Winner: Grammarly
I've tested over 20 grammar and plagiarism tools to date, and none have come anywhere close to Grammarly's impressive 60-minute response.
Feature #4. Multilingual Options
Grammarly only supports the English language.
Sure, it'll help you with British or Canadian differences (like "favour" instead of "favor"). But that's about it.
Ginger, however, blows Grammarly out the water in this case.
They support over 40 major languages. All you have to do is select your home language, set the destination language, drop in your content, and hit "Translate."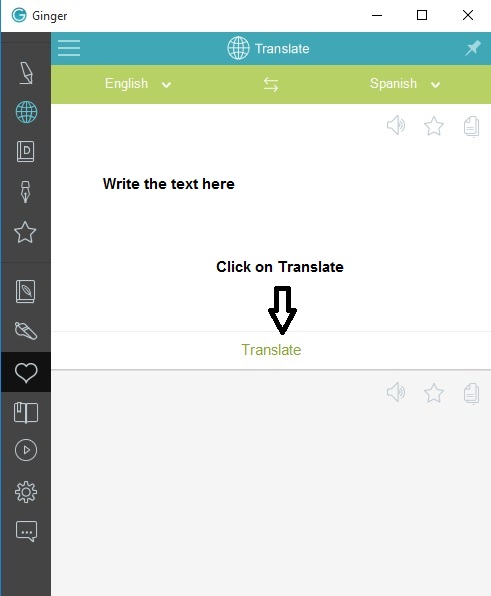 Easy peasy!
Winner: Ginger
No question. Ginger's translation feature is perfect for international users, or second-language people who need to fact-check their English grammar.
Grammarly's English-only support won't cut it in this case.
Feature #5. Costs
Pricing is pretty similar for both Grammarly and Ginger.
They both have free options. Although, as we've seen, Grammarly's offers higher limits.
They also each have a paid option, with monthly or long-term plans available.
The true month-to-month options will be a little more expensive. I initially paid $29.99 for a month of Grammarly.
The monthly option on Ginger, meanwhile, only set me back $20.97. So a ~$10 discount, or about 30%.
The silver lining is that you can use the paid options for a month to see if you actually like the service.
Then, the best way to save on both is to bite the bullet and pay annually when you're ready to commit.
That's what I eventually did with Grammarly, making a one-time payment of $139.95. This brings your effective monthly price down to only $11.66 / month:
Ginger's current pricing is a little more budget-conscious, costing only $89.88 for the year (or $7.49/month).
Winner: Ginger
You could argue you're getting less with Ginger, because it lacks any plagiarism checker. But if you're just in the market for a solid grammar checker, then the cost comparison isn't even a question: Ginger will set you back far less over time.
Grammarly vs. Ginger: Which One Wins?
It's a close call.
The truth is that they're both good. There's a lot to like about each one. But they differ in a few key areas.
So depending on what you're looking for…
If you're interested in top-of-the-line accuracy and plagiarism-checking abilities: Go Grammarly.
If you're a budget-conscious consumer, or require a multilingual grammar checker, Ginger is your guy (err, gal).